Freeing Your Sh*t To Find Yourself Program
Regular price
$2,997.00 NZD
Regular price
Sale price
$2,997.00 NZD
Unit price
per
 12 Weeks 1:1 Intuitive Healing + Mindset Coaching Immersion
Mindset 
Emotions
Self-worth/esteem
Relationships 
Mental Health 
Addictions
Weight lose
Career + Life Purpose Direction
Confidence
Creating time 
Money mindset
Family 
Romantic/Intimate relationships, Love, Heartbreak
Safety + Trust
Protection + Clearing of energy
𝑰𝒇 𝒚𝒐𝒖 𝒘𝒂𝒏𝒕 𝒎𝒐𝒓𝒆:
Unapologetic self-expression
Time
Routine + commitment
Self-worth/esteem
Love + laughter
Energy
Freedom + flow
Abundance + money
Confidence 
Safety
Purpose + direction
𝑰𝒇 𝒚𝒐𝒖 𝒘𝒂𝒏𝒕 𝒍𝒆𝒔𝒔:
Stress
Anxiety
Drama
Fear
Frustration
Reactive-ness
Repetitive negative cycles
Unhealthy habits
Worry
𝑰𝒇 𝒚𝒐𝒖 𝒂𝒓𝒆 𝒄𝒉𝒂𝒍𝒍𝒆𝒏𝒈𝒆𝒅 𝒐𝒓 𝒉𝒂𝒗𝒆 𝒆𝒗𝒆𝒓 𝒃𝒆𝒆𝒏 𝒃𝒚:
Limiting beliefs
Feelings, thoughts & behaviours of "I am never good enough"
Being consumed by shame, blame and judgmental stigmas
Negative emotions & battling to understand, process, face them and express them in a healthy way
Attachment, avoidance, abandonment + trust
Relationships with self & others
Always feeling never enough, too much, too loud, too…anything!
Sabotage, hate, or dislike of self
Suffocating voices from your ego, e.g. "You can't do that" "no one will ever want you"
Self-worth and confidence issues
𝑾𝒉𝒂𝒕 𝒚𝒐𝒖 𝒘𝒊𝒍𝒍 𝒐𝒑𝒆𝒏 & 𝒊𝒈𝒏𝒊𝒕𝒆 𝒊𝒏𝒕𝒐 𝒚𝒐𝒖𝒓 𝒍𝒊𝒇𝒆 𝒕𝒉𝒓𝒐𝒖𝒈𝒉 𝒕𝒉𝒊𝒔 𝒊𝒎𝒎𝒆𝒓𝒔𝒊𝒐𝒏:
Mastery of all emotions
Be able to hold powerful and passionate energy in your authentic truth (regardless of external factors)
Strengthened sense of self-worth/esteem
Enhanced trust and understanding of intuition
Solution focused and opportunistic mindset
Embodiment in yourself to know that: You are enough! You are loved! You are safe! You are worthy!
Unstoppable willpower!
Passion, purpose, confidence & alignment
Certainty, consistency, respect and commitment to self, and the others that are dare to your heart
More luscious happiness, laughter and high vibe energy
The magical sparkly VIBE of who YOU really are deep in your heart!
(Your special originality that no one else has!)
Then 𝗙𝗿𝗲𝗲𝗶𝗻𝗴 𝗬𝗼𝘂𝗿 𝗦𝗵𝗶𝘁 𝗧𝗼 𝗙𝗶𝗻𝗱 𝗬𝗼𝘂𝗿𝘀𝗲𝗹𝗳 is here for you beautiful soul!
12 𝑾𝒆𝒆𝒌𝒔 1:1 𝑰𝒏𝒕𝒖𝒊𝒕𝒊𝒗𝒆 𝑯𝒆𝒂𝒍𝒊𝒏𝒈 & 𝑴𝒊𝒏𝒅𝒔𝒆𝒕 𝑪𝒐𝒂𝒄𝒉𝒊𝒏𝒈 𝑰𝒎𝒎𝒆𝒓𝒔𝒊𝒐𝒏 with me!
What do you get:
10x 1:1 weekly coaching calls 
weekly personalized opportunity tasks
Releasing of 5 core negative emotions; anger, sadness, fear, hurt, guilt
Releasing of your deepest core limiting beliefs that are holding you back 
Use of Neuro-Linguistic Programming and Time-Line Therapy Techniques
Understanding and working with the subconscious and conscious minds 
Variety of intuitive healing and mindset transformational resources and tools to keep life long
Journaling, Meditation, Breathing, and Commitment Strategies
Final PDF of personalized new learnings, beliefs and values, tools to support you for the rest of your life
Certificate of completion + celebration 
If you are ready to listen to your intuition, your heart and the deepest truth inside you, click the button and let's change your freaking life!
Investment options:
Standard
Full Payment: $2997
3x Monthly Instalments: $1099 
6x Fortnightly Instalments: $599.5  
Deluxe
Full Payment: $4444
3x Monthly Instalments: $1581.33
6x Fortnightly Instalments: $840.66
Differences between Standard and Deluxe options:
Standard includes all of the above as stated and any other intuitive healing resources that feel aligned to drop into the space over your immersion. 
Deluxe includes all of the above stated and any other intuitive healing resources that feel aligned to drop into the space over your immersion. Plus Unlimited daily 1:1 supported via telegram throughout your 12 week immersion.
Please ensure you select accurately either standard or deluxe and the payment option that is most alive and aligned for you beautiful soul!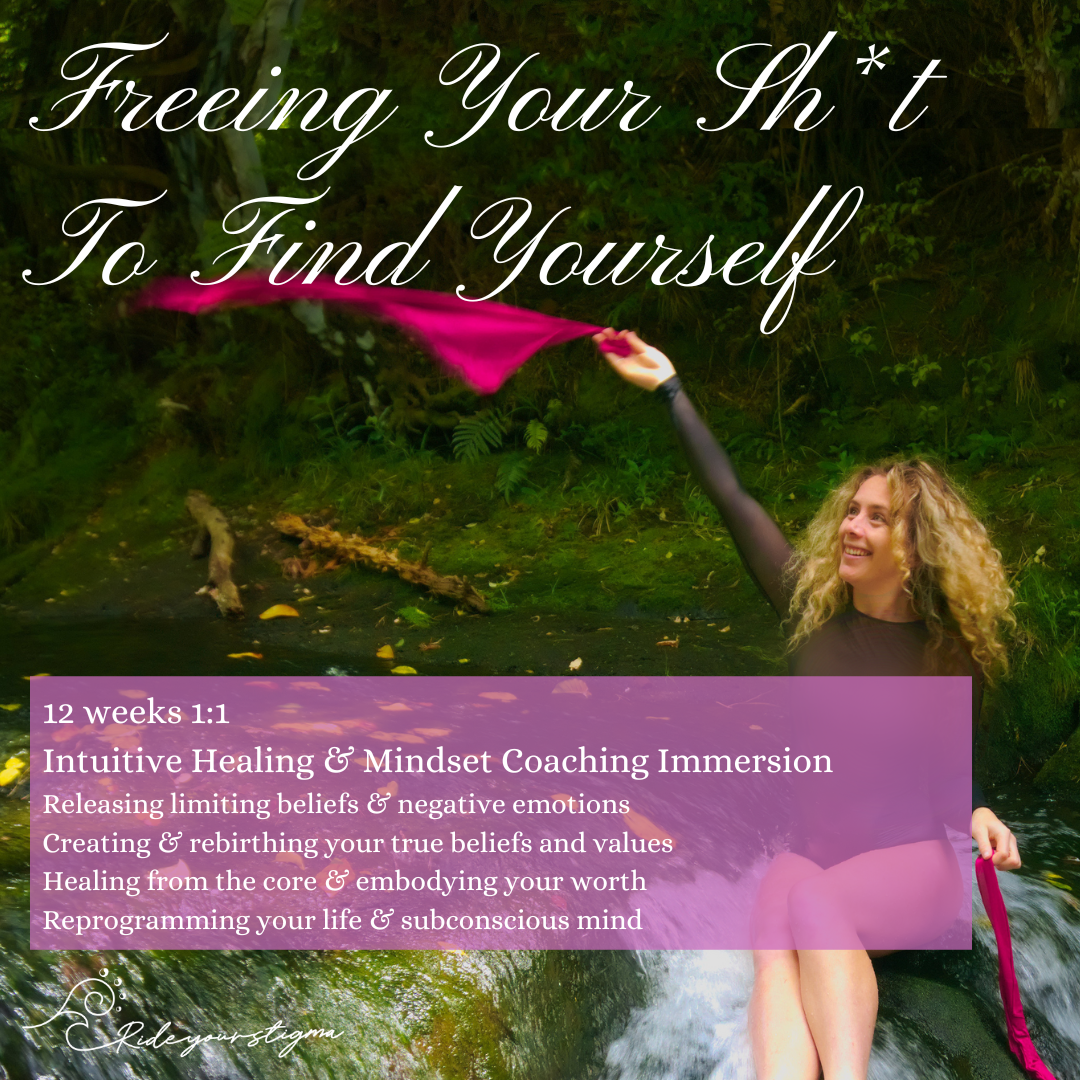 If you are still on the fence / want to learn more about the payment plans I offer please fill out the contact form or below or book a free connection call
Book a Free Connection Call