21 Day Life Shifter
Regular price
$297.00 NZD
Regular price
Sale price
$297.00 NZD
Unit price
per
21 Days of 1:1 life shifting growth, intuitive guidance & healing, mindset mentoring, and "nothing is off limits" questions & daily support!
💥Are you ready to kick reset your life?
💥Are you ready to up-level and expand to yourself?
💥Are you ready to dig deep in discovering your soul aligned direction?
💥Are you ready to say "no more excuses" and create more commitment? Boundaries? Clarity? Certainty?
💥Are you ready and willing to transform your mindset?
💥Are you ready to get out of your own way, feeling the feelings into your healings?
💥Are you ready to open the bad-ass life you've been talking and thinking about in your dreams?
What do you get?:
🌬unlimited Q's and A's.
all your questions answered. Ask as many questions as you need! (no limitations! Anything in any area of your life you feel called to) the hard, the wondering, the challenging, the awkward, the exciting, the eager, the confusing, the healing, the celebratory and the unsure
🌬unlimited text messaging support 🤳 via telegram
🌬unlimited voice messaging support 🎙 via telegram
🌬2x 30minute private 1:1 video call sessions 👥 (initial & final calls)
🌬1x personalised psychic reading + card spread 🔮
🌬daily 1:1 support + check in's (from me) 👋
🌬21 Day Life Shifter workbook 📖
🌬mindset mentoring 💆‍♀️💆
🌬intuitive guidance + healing ❤️‍🩹
🌬emotional + energetic support/help ✨
🌬any resources from my other courses and content that you may benefit from in shifting your life through the 21 Day journey together!
21 days privately working with me 1:1 for powerful and personalised support in shifting your life, right now!
If you want to kick restart yourself, your life, your funky dunk, that stuck or stagnant situation your in, this is here for you!
If you want support with:
👐Mindset
👐Business
👐Transforming negativity into positivity
👐Accountability & motivation
👐Routine/commitment
👐Relationships/love/breakups
👐Health/wellness/illness
👐Enhancing your intuition & learning about your own spiritual journey
👐Family issues/boundaries/generational pass downs
👐Creating money & time
👐Career and life purpose paths/direction
👐Building self-worth, self-esteem, self-love
👐Working towards understanding yourself and your mental well-being
👐Discovering your creative flare & fiery passion
👐Expressing your emotions safely without judgement, shame or suppression
👐Learning to trust yourself, uncover yourself and build confidence
👐Cleaning up your life, finding who you are again, cleansing and detoxing all the challenging stuff that's come your way or been through in on your plate lately
👐Finding clarity on all your indecisive & conflicting thoughts, choices and analysed situations
Then darling, the
✨21 Day Life Shifter✨is here for you!
Let's kick restart and refresh your life magical soul!
You can do anything and have anything you desire in your life, you just have to choose to take the first step by saying "YES" to investing in yourself!
Love, sparkles & vibes ✨
𝓜𝓪𝓭𝓮𝓵𝓲𝓷𝓮 𝓛𝓮𝓮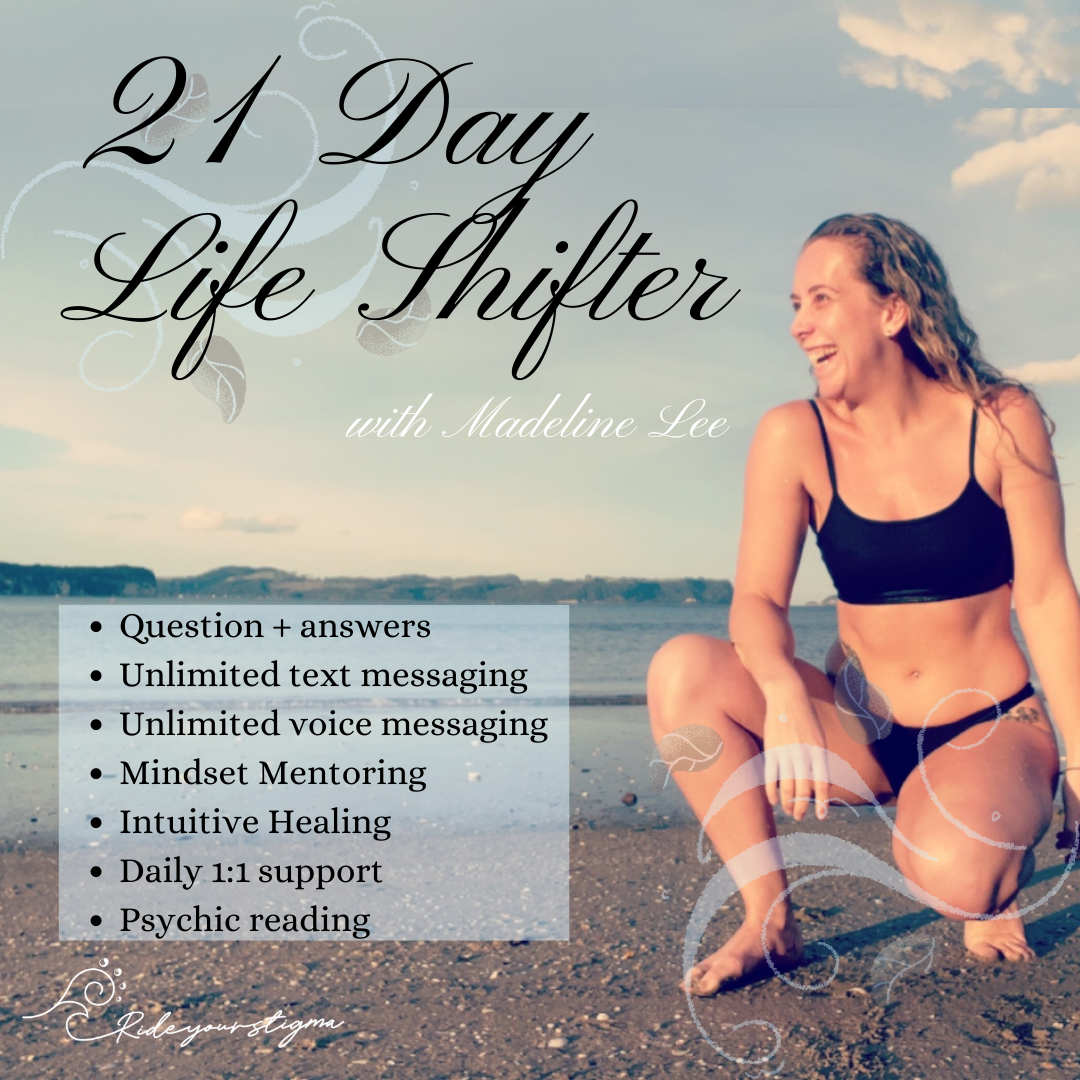 If you are still on the fence / want to learn more about the payment plans I offer please fill out the contact form or below or book a free connection call
Book a Free Connection Call